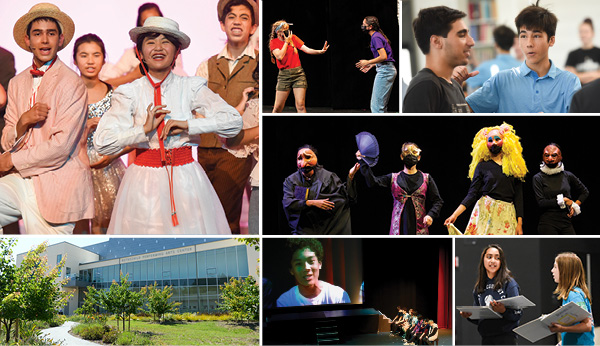 Summer @ The Conservatory will bring together the very best Bay Area educators to help students develop skills through a variety of acting classes, workshops, master classes and performances. Students grade 5-12 who are passionate about performing arts can improve their skills with classes focused on technique and performance instruction.

Work and perform in our state-of-the-art, 463-seat Rothschild Performing Arts Center! Enjoy the expertly designed and outfitted classrooms, rehearsal spaces, scene shop and dressing rooms.

Summer @ The Conservatory classes develop self-confidence and responsibility, personal and artistic expression, listening and awareness, stage presence, creativity and teamwork. There are opportunities for performers of all levels. Stretch yourself to the next level in one of our exciting programs.
In this program, passionate students experience classes focused on broadening their acting technique, workshops with accomplished industry professionals, and daily rehearsals for two one-act shows. The program culminates in the final performances, where actors' skills are showcased in our state-of-the-art theater.

There will be an evening performance on Friday, Aug. 12.
By audition only, this intensive is for students eager to expand their theatrical knowledge in both the classroom and on stage. Students will dive into challenging plays, honing their character and ensemble-building skills. This course expands on Conservatory Presents, and students are required to have completed that program or a similar one in the area.

*Video auditions due two weeks after completion of registration. Requirements provided after registration is complete.
Due to popular demand, we are thrilled to add one of our specialties at the Conservatory to the summer program – musical theater education and performance training. Musical Theater Intensive is designed for students who love musical theater and are ready to excel. All experience levels are encouraged to audition. Students will work on the techniques and fundamentals and can feel safe bringing their current skills to class. Our award-winning musical theater educators and alumni, as well as outside theater professionals, will propel them to the next level in their training. Each student will also leave with an audition song ready for any school or regional production.

Students will be selected by audition, as the program is limited to 12 participants.

*Video auditions due two weeks after completion of registration. Requirements provided after registration is complete.
In Film Intensive, students learn tricks of the trade in a fun-filled, fast-paced, three day workshop that focuses on acting for the camera. Working with television and film scripts, our actors develop the performance nuances they'll need on camera by delving into techniques for commercial and film auditions, including how to cold read, take direction for the camera, and create compelling characters using actual film scripts. Actors in this workshop can expect to finish with a headshot and a short filmed piece, and be ready for their first audition! Spaces limited.
Copyright © The Harker School 2022. All Rights Reserved.