I hope you enjoy this month's Harker News Express, intended to give alumni a summary of this month's stories and a glimpse into upcoming events.

Next on the calendar is Harker Homecoming on Nov. 5, 2016. This year's Homecoming is all about spirit! Wear any Harker logo and show your Eagle Pride. Need something to wear? Check out the new online store and consider the alumni shirts and hooded sweatshirt, as proceeds benefit the alumni endowment fund! Hope to see you at the big game.

Karri Sakai Baker '84
Director of Alumni Relations
Sanjana Baldwa '12 is working with a fascinating startup, Go Jane Go, which is developing an app to connect female road warriors in real-time. The company's motto is "Business women embracing the experience of #TravelingWhileFemale." Via in-app messaging, women can "connect with each other for activities to make solo business travel a lot more safe, […]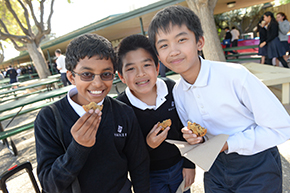 Once you log in to the alumni portal, find the photo slide show, copy the password and click on the camera icon to go to our photo galleries. Use the password to access each gallery. Login issues? Contact Alumni Relations at alumni@harker.org and we'll set you up!
How many students, administrators, faculty and staff participated in the Harker Family & Alumni Picnic's performing arts show and afternoon jazz bands this year?
Last month's poll: Well done – 66% of respondents correctly guessed that the lower school students eat about 7,200 strawberries per month!
Copyright © The Harker School 2022. All Rights Reserved.